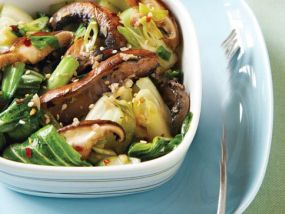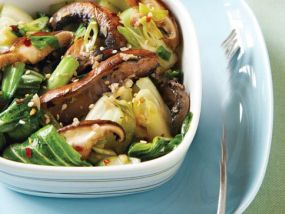 Stir Fried Bok Choy and Mushrooms is a Cambodian Food Recipe cooked with garlic and ginger.
Ingredients
1 Tbs sesame oil
2 tsp ginger, minced
1 large garlic clove, minced
1 red bell pepper, sliced
6 oz shiitake mushrooms, sliced
3 large green onions, thinly sliced
3 cups bok choy, thinly sliced
Salt and pepper
Instructions
Heat oil in heavy large skillet over high heat.
Saute ginger and garlic 20 seconds.
Add bell pepper and mushrooms.
Sauté until pepper is crisp-tender, about 3 minutes.
Add green onions and bok choy.
Sauté until just wilted, about 2 minutes.
Season with salt and pepper.